Jul 11, 2022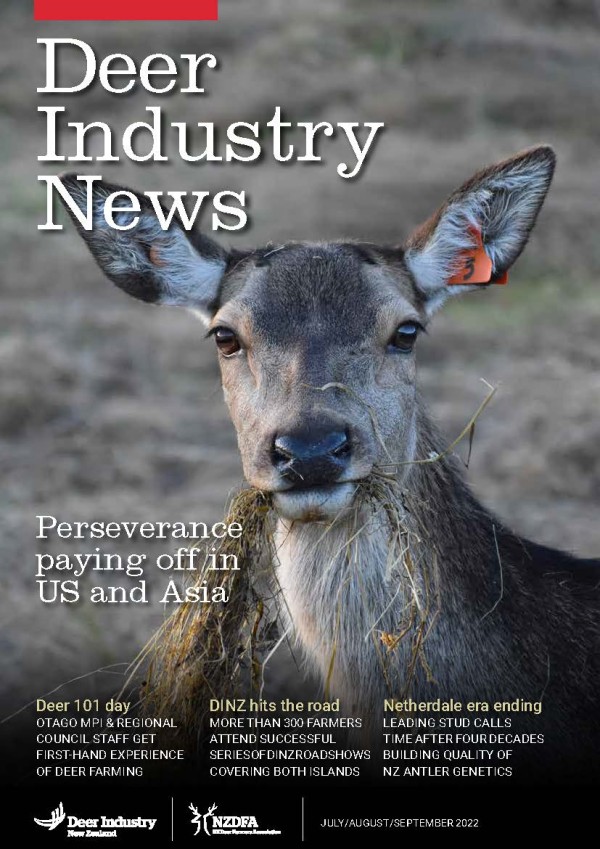 In this issue:
Editorial
How we communicate
On Farm
Wintering tips aplenty on Deer 101 day
Environment
Practical environment handbook launching soon
Deer industry well represented in Otago planning
DINZ News Two board appointments
Markets
Doubling down for US
Asian efforts reaping rewards for Alliance
Velvet marketers focus on spring campaigns
Cost headwinds hit carbon neutral red meat
People
Netherdale era drawing to a close
Meet our winner!
Biosecurity
NAIT levy hike trimmed back
CWD review a reminder
NZDFA and DINZ News
Branch chair profile: Sean de Lacy
Branch chairs' meeting and DINZ road trip
NZDFA Annual General Meeting
Elk & Wapiti Society update
Contributions recognised at special dinner
Cover: "Content" by Ella Hole was the winning photo in the 2022 MSD Animal Health/Allflex photo competition. See page 18 for a profile of our winner.
Click on the icon in the bottom right corner of the magazine preview below to view in full screen.
Back to Industry News