Calculate total feed requirements for the hind or hind/fawn pair to meet liveweight targets. The requirements of growing weaners can also be calculated.
To use the Feed Intake calculator, click here >>
Click on the Feed Intake Calculator link, and then follow these instructions for your type of phone or tablet:
IPHONE AND IPAD USING SAFARI BROWSER
Tap the share button: the icon in the middle at the bottom of the screen.
Then tap on the icon that says "Add to Home Screen".
You can choose the name and then tap "Add" which is in the top right of your screen.
ANDROID USING GOOGLE CHROME AS THE BROWSER
Tap the 3 dots in the top right hand corner.
Then tap the "Add to Home screen"
WINDOWS PHONE
Tap on the 3 dots in the right hand corner and then tap 'open in internet explorer'.
Tap copy link or share link, then tap on the "E" on your mobile home page.
Click on 3 dots again and select pin to start.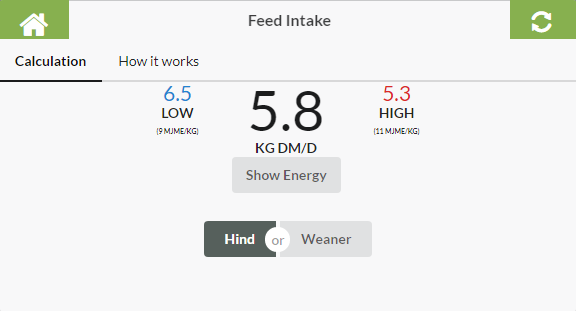 Back to Feeding tools