May 5, 2023
- 2022/23 NZDFA Annual Report and AGM reminder
- Expression of interest for a NZDFA rep on the National Velvetting Standards Body
- NZDFA membership for 2023/24 - let us know if you didn't receive a subscription invoice
- MetService Outlook
- Production feature: Copper deficiencies
- Joke of the Month
- 2023 Deer Industry Conference, Ashburton, 10 May 2023
- Farming for a successful future event, Rural Support Fundraiser, Hastings, 17 May 2023
- 2023 Next Generation Programme, Canterbury, 3-4 August 2023
- Mark your calendars: 2023 National Velvet & Trophy Antler Competition and 2024 CK Import Export Rising Stars
Noticeboard
2022/23 NZDFA Annual Report and AGM reminder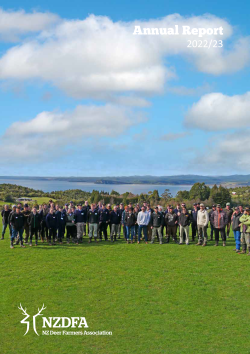 The 2022/23 NZDFA Annual Report has been finalised with Moore Markhams completing their review. Click on the image or here to read >>
A reminder the AGM is being held in Ashburton next week and won't be livestreamed. For those attending, this will be at the Ashburton Hotel (11/35 Racecourse Road, Allenton, Ashburton 7700) in the Valetta and Arrowsmith rooms at 9am.
Expression of interest for a NZDFA rep on the National Velvetting Standards Body
The NZDFA are seeking expressions of interest to join the National Velvetting Standards Body (NVSB) as a NZDFA representative. For an indication of what the role entails or to express your interest, please get in touch with Producer Manager Lindsay Fung on lindsay.fung@deernz.org or 027 668 0141.
Expressions of interest close on 20 May 2023.
The NZDFA Executive Committee would like to take this opportunity to thank Peter Allan who has served 13 Years on the NVSB. Over this time Peter has had seen many challenges that the NVSB has had to overcome from the RCS through to VelTrak and has always represented the best interests of the deer farmers of New Zealand. NZDFA Executive Committee: Justin Stevens, Mark McCoard, Karen Middelberg and Jamie Ward.
NZDFA membership for 2023/24 - let us know if you didn't receive a subscription invoice
While invoices should have gone out to everyone, with the new system, we may have missed a few of you as we don't have the correct email address.
If you haven't received an invoice, please get in touch with Cenwynn on cenwynn.philip@deernz.org
MetService Outlook - May 2023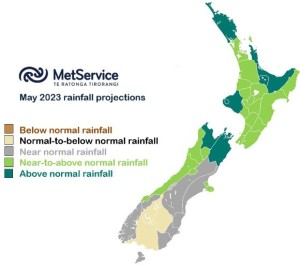 An extremely mild May is forecast across New Zealand – expect some locations to break May temperature records. Temperatures run phenomenally warm for the time of year this week, with weekly average temperatures expected to run between 3 and 6 degrees above the May norm. Next week is also forecast to run much warmer than usual, until a cold southerly outbreak kicks in mid-week. For the back half of May, South Island temperatures should remain well above average, while North Island temperatures are predicted to settle back closer to average.
Overall, an extremely mild May is expected right across New Zealand. However, this does not rule out some cold events, frosts and even snowfalls.
The entire North Island, as well as Westland, Buller, Nelson and Marlborough, and also Banks Peninsula and Christchurch, should expect a wet May, with normal to above normal rainfall totals. Central Otago and Southland are predicted to run a touch drier than usual, while near normal rainfall is forecast for all remaining areas.
Bottom Line: Overall, an extremely mild May across NZ. Very wet for many regions.
Production feature: Copper deficiencies
Trace elements are natural minerals required in very small amounts by the body for various metabolic processes. Typically they are not stored well in the body, so need to be constantly ingested in tiny amounts. If the body is deficient, the metabolic processes will be adversely affected.
Copper is the main trace element where deficiency is likely to be an issue in deer. Cobalt, iodine and selenium deficiencies also occur but are much less common.
Read more at deernz.org.nz/deer-hub/health/major-issues/trace-element-deficiencies >>
Joke of the Month
I went to the bank for a personal loan.
After looking over the paperwork, the Branch Manager said, "I'm sorry, given your credit, we just cannot provide you this loan at this time."
Then all of the sudden another man walks over to his desk, wearing a business suit, and surprisingly, a black mask.
This man picks up my paper work, looks it over, puts it down on the desk, and stamps it APPROVED - and walks away.
The Branch Manager says, "Well I'll be...!"
"That's great, but who was that masked man?" I say.
The Manager says, "That was no Masked Man, that was... THE LOAN ARRANGER!"
Events
2023 Deer Industry Conference
Registrations are closed.
We are running a waitlist for the conference, dinner and field day, so if you'd like to be added to that, please email Rebecca on
rebecca.norling@deernz.org

Farming for a successful future event
Rural Support Fundraiser, Hastings, 17 May 2023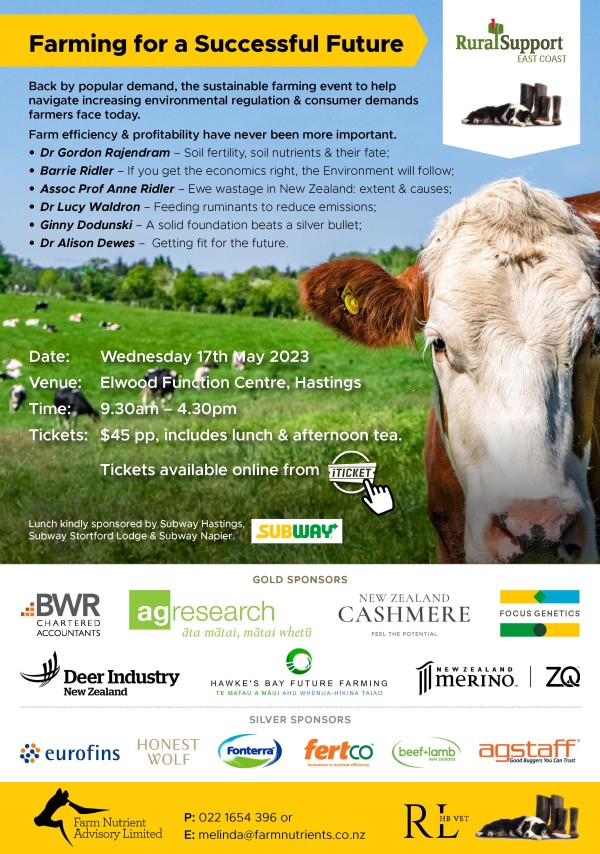 Any queries to: melinda@farmnutrients.co.nz or 022 1654 396
Next Generation Programme 2023

Pop this date in your diaries! We'll be heading to Canterbury! Plans are coming together for the 11th Next Generation Programme and it's shaping up to be a fantastic event! We're opening expressions of interest to attend.
Read more in the earlier article here >>
Mark your calendars
2023 41st National Velvet & Trophy Competition
The 2023 Awards Night has been confirmed for Friday 8th of December. Contact southlanddeerbranch@gmail.com for any enquiries.
2024 CK Import Export Rising Stars
Saturday 9th March 2024 in Te Awamutu Hosted by Waipa Branch NZDFA. Early entries will be accepted for the 2024 CK Import Export Rising Stars Competition up until 10th March 2023 for Hard Antler heads not cut before the 2023 Competition. Contact campbell.clarke@xtra.co.nz or 07 873 2785 for any enquiries.
Back to Industry News